Get Your Custom Screen Printing on T shirts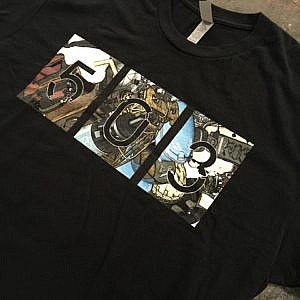 As a monkey, you might not think I know much about t-shirts and other textiles, but after working with the amazing staff members at Monkey in a Dryer Screen Printing, I've learned quite a lot about clothing, hats, bags, and pretty much everything else you can customize. There are tons of ways you can add your own personal touch to fabrics and apparel, but one of the most common I see from the customers I meet is custom t -shirt screen printing.
The process behind our apparel and t-shirt screen prints is pretty cool—and super affordable, too! You can choose up to six colors for your design. Each color is applied with a different screen which layer and blend to make up whatever design you want. Don't worry if you're not much of an artist… I'm not either. Fortunately, my friends here have helped me make beautiful designs that I print out for my own custom t-shirts, and they are more than happy to do the same for you. No matter what kind of pattern or picture you have in mind, you can count on us for high-quality custom t-shirts and other screen printing solutions.
Working Hard to Give You the Best Custom T-Shirt Screen Prints
We are proud to offer the highest quality custom t-shirt screen prints, as all of the services we offer are done in house. This means we never outsource anything. While outsourcing would be much "easier", we believe that producing the highest quality products is much more important. Plus, everyone here loves doing it!
Get Just What You Want with Custom Screen Printing Solutions
The people at the shop help you plan your design, giving you a variety of colors and determine what screen printing services are possible. If you wanted a picture of your good pal Chip, for example, you can use our online design tool and upload your custom image or choose from our pre-made templates or clip art graphics. Alternatively, you can rely on the talents of our graphic artists. They'll let you know how many colors would be best for the screen printing process and even give you an idea of what that would look like before they start working. This allows you to make any final alterations before they start working on your monkey masterpiece—or any other artwork you want, of course.
Contact us today to learn more about our screen printing services. We are based in Northeast Minneapolis, Minnesota, and proudly serve all of the Minneapolis/St. Paul area and ship products to customers nationally and all over the world.