Custom Athletic Uniform Lettering and numbering Services from Our Experts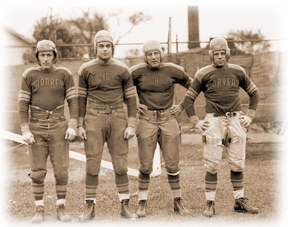 When it comes to any sporting event it is important to be able to easily tell who is who and an easy way of doing this is by placing names and numbers on each player. Whether it's for your kiddo's tee ball team, high school varsity football team, or the company kickball team, our athletic uniform lettering and numbering services make the jerseys look like the ones the pros wear.
We only believe in using the highest quality products and you will find that our custom lettering and numbering is made from the same vinyl that professional sports teams use. Each member on your sporting team will feel like one of the pros as they sport their favorite number or nickname on their jersey. With a wide variety of t-shirt numbering and name options to choose from your team will be sure to stand out from the rest.
Show Off Your Style With Team Uniform Lettering
Who doesn't love a good game of baseball? It is a classic American sport after all. However, whether baseball is your sport of choice or not, we can ensure that your team looks just like the pros in your custom team jerseys, no matter what sport you play.
Upgrading your team's jersey is about more than just looking the part—it's about boosting your team's confidence. A lot of people say that you have to dress for success, and there's a lot of truth in that. By dressing like pros, you'll start thinking and playing like pros.
Offering a Variety of Sports Uniform Lettering Options
Okay, so maybe you don't want your jersey to look exactly like the one your favorite players, maybe you want some subtle or significant changes in more than just the name and number. Luckily for you, the team here excels at customization. There are dozens of combinations of different colors and fonts to choose from. We print with single or dual color t-shirt numbering on the front, back, or both sides of the jersey so you can achieve the look you are envisioning. Use our design services to customize your own shirts or have one of our professionals do it for you. You can play around with your options to see what you like and what will make your team look its very best.
Contact us today to learn more about our names and numbering services. We are based in Northeast Minneapolis, Minnesota, and proudly serve all of the Minneapolis/St. Paul area and ship products to customers nationally and all over the world.