Jackson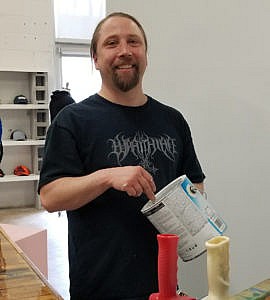 Meet Jackson, he is our master printer. Want to get to know Jackson a little better? You're in luck, here are some fun facts about him.
Where are you from and what brought you to the Minneapolis area?  I am a Minnesota native, born and raised in Minneapolis.
Do you have any fun or interesting hobbies?  I like to build bicycles.
How in the heck did you get into screen printing? I got a job folding shirts and cleaning screens at a screen printing shop and worked my way up.
Do you have a favorite type of screen printing?  Simulated Process Printing.
What is your favorite flavor of ice cream? Moose Trails.
Who would win in a fight between a taco and a grilled cheese? The taco…ya know just because…
If you could be a monkey, what type of monkey would you be?  I would be a total Metal Monkey – Rock on!