Live Mobile Screen Printing for your event is coming soon!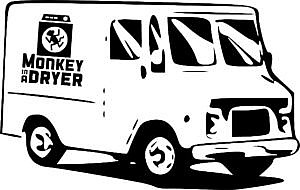 Do you want to make your next event memorable?  Are you looking to add some excitement and get people tweeting or sharing their incredible experience they just had at your business or special event?  We want to help you create that lasting memory for your customer or guest.
Let Monkey in a Dryer bring in our mobile screen printing team for an interactive art experience for your next special event, corporate event, marketing giveaway, trade show or promotional event. Screen printing  custom t shirts at your event creates a festive atmosphere and provides great entertainment for your guests.  Custom products can commemorate the event itself or it can solidifying your brand.
On-site Live Screen Printing Leaves a Lasting Impression
When you hire Monkey in a Dryer for your next live screen printing event, you will get the most friendly and experienced team of monkeys in the business, highest quality products printed using the industries best line of textile inks.  If you would like to offer more than t-shirts, we offer many promotional items to choose from including sweatshirts, hoodies, bandanas, tote bags, promotional bags, coffee mugs, water bottles, etc.
conventions

festivals

concerts

product launches

trade shows
art shows
Request a quote for Live Screen Printing for your next event!
[contact-form-7 404 "Not Found"]
Contact us today to learn more about our Live Mobile screen printing services. We are based in Northeast Minneapolis, Minnesota, and proudly serve all of the Minneapolis/St. Paul area and ship products to customers nationally and all over the world.