Use Our Heat Printing Services for Cotton Garments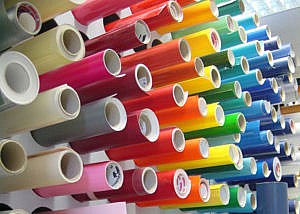 So you want the look and feel of dye sublimation but on more natural fibers, like cotton? Well, you're in luck! I have a bit of a secret for you—you can have exactly what you are looking for. At Monkey in a Dryer Screen Printing, we have the technology to make pretty much anything you can imagine. However, the process for printing on cotton isn't dye sublimation, it's a different technique called heat printing.
Heat printing is performed in a very similar fashion to dye sublimation, as the design is printed onto transfer paper, but is then applied using heat and specialized equipment. This process is used to create full color and even photographic images on the apparel of your choice. Heat printing even gives you a variety of finishes on your design which include; matte, opaque, and vibrant colors. Doing this printing process in house, we can offer our customers one color designs and orders as little as one t-shirt. We proudly offer wide variety of services including heat printing, dye sublimation, and much more to ensure that we can meet your custom apparel needs.
Do You Want a Full-Color or a Vintage Look?
You don't have to have a shirt for years in order to get that distressed vintage look. We are the pros when it comes to getting this look using heat printing. While you can get a bright, rich effect on 100% cotton fabric, 50/50 blends work differently. The dyes used in our heated t-shirt prints only absorb into natural fibers and can't penetrate polyester, rayon, or other inorganic material. So if you have a blended shirt, jacket, or other clothing item, only half of the fibers will carry the color, giving it a cool old-school look.
Keep in mind you can also go the opposite end of the spectrum and get full-color vibrant apparel. White 100% cotton textiles are best at holding color when heat printing, but you can choose whatever color you like best.
Experienced Professionals Make Heated T-Shirt Prints Easy
Whether you want the distressed look or complete vibrant color on apparel, our heat printing technicians have you covered. For the 15 years that I have been working with Monkey in a Dryer, I've seen the entire staff working hard to meet every customer's unique need. Our graphic designers can draw up customized logos and other graphics based on your ideas. If you want something more hands-on, our online design tool makes it super easy to create your own personalized design. If you have your own graphics, you can upload, size, and position them any way you want. However, if your art skills result in nothing more than stick monkeys, you can use the graphics and lettering in the system. Colors, sizes, orientation, and text effects can all be changed to fit your vision, so go wild and see what you come up with.
Contact us today to learn more about our heat printing services. We are based in Northeast Minneapolis, Minnesota, and proudly serve all of the Minneapolis/St. Paul area and ship products to customers nationally and all over the world.