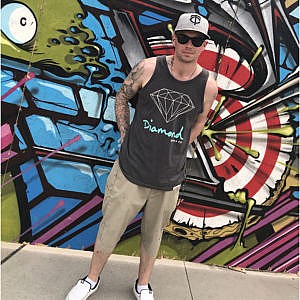 Meet Joshua, he is our part time helper. Want to get to know Josh a little better? You're in luck, here are some fun facts about him. 
Where are you from and what brought you to the Minneapolis area?Born and raised just outside of Minneapolis, in Crystal, MN. I moved to Northeast just after graduating High School and never left. That was 11 years ago. In my opinion, Northeast, Minneapolis has some of the most eclectic, kind hearted and intriquing arts scene in the state!
Do you have any fun or interesting hobbies? I've trained and competed in Golden Gloves Amateur boxing and Jiu Jitsu, but now mainly to stay in shape rather than compete. Combat sports are a young mans game. Needless to say, I'm past my prime and would rather keep my facial structure intact. I make instrumental music with vintage sampler machines and collect vinyl records has a "has been" DJ. 
How in the heck did you get into screen printing?  I've worked in the local bar scene for quite some time and finally after 10 years needed a change. I answered Monkey in a Dryers ad for a shop assistant and was hired on. I haven't looked back since and can't wait to see what's in store for the future!
Do you have a favorite type of screen printing? Four Color Process Printing. Tis' Dope. 
What is your favorite flavor of ice cream? Vanilla with Gummy Bears. Hands down.
Who would win in a fight between a taco and a grilled cheese? I don't want to Taco bout it…..
If you could be a monkey, what type of monkey would you be? De Brazza's Monkey